Is there a dish you grew up thinking you hated, but then experienced it prepared differently as an adult and realized you love it?
Sloppy joes is one of those dishes for me! It turns out, I experienced a lot of Manwich and other prepackaged sloppy joe mixes as a kid at the homes of friends and family, and because all those mixes are rather unappetizing, I just assumed that all sloppy joes were disgusting.
It wasn't until a couple years ago when my husband requested sloppy joes for dinner that I discovered the awesomeness of homemade sloppy joes! Knowing that I had never liked sloppy joes before, I had no intention of eating the sloppy joes myself, but with the aroma the sloppy joe mix created as I cooked it on the stove top, I couldn't resist.
I tried it and I loved it!
And better yet, my rather picky husband loved it too! My homemade sloppy joes has become a dish he requests frequently and one I'm happy to make, because it's easy, healthy and delicious!
Ready to ditch the prepackaged sloppy joe mixes and give homemade sloppy joes a try? Here's how we like to enjoy them:
Start by adding two pounds of lean ground beef to a large skillet or pan, and brown over medium heat.
While the meat browns, chop a small onion and half a green pepper.
If you're like me and tear up anytime you chop an onion, I highly recommend the Tupperware Quick Chef Chopper to get the job done! It's become one of my favorite tools in the kitchen for how easy it has made chopping onions! I just cut an onion into chunks and place the chunks into the chopper like below.
Then I put the lid on, give the handle a few cranks, and bam, I have chopped onions without any tears!
I suggest chopping the onions first and then adding the peppers to chop, otherwise the peppers tend to get a little over chopped.
Once the ground beef is browned, drain any grease and then add the peppers, onions and garlic.
Stir well to combine and then allow the mix to cook for about 10 minutes or until the vegetables are tender.
Next, we'll add everything that gives sloppy joes its bold flavor, starting with with some seasonings.
And while most people use ketchup, I prefer to use a healthier alternative, two cups of Prego tomato sauce! Any flavor will do.
I also add a tablespoon of plain mustard for a little extra zing, and then a little something for sweetness, two tablespoons of brown sugar.
Mix it all together, cover and allow to simmer for about 10 minutes before serving on your favorite style of freshly baked buns.
Don't have 40 minutes to stand in the kitchen and prepare this recipe? No problem! Just choose a very lean ground beef and toss all the ingredients in a slow cooker instead. Cook on low for 5 to 6 hours. It tastes just as great!
Oh, and did I mention this recipe was highlighted on the #FoodieFriday linkup recently? Whaaaat!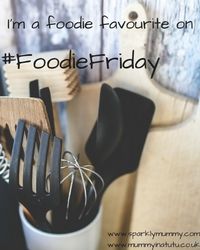 Ingredients
2 pounds lean ground beef
1 small onion, chopped
1/2 green bell pepper, chopped
4 clove garlic
2 cups tomato sauce
2 teaspoons chili powder
1 teaspoon black pepper
1/2 teaspoon red pepper flakes
2 tablespoons brown sugar
1 tablespoon mustard
Fresh buns
Instructions
Add ground beef to large skillet and brown
Removed any excess grease
Add chopped onions, peppers and garlic
Stir and allow to cook for about 10 minutes or until vegetables are tender
Add remaining ingredients
Stir and allow to simmer for about 10 minutes before serving on fresh buns
Copyright of www.blossomingintentions.com
Want to pin this recipe for later? Click the image below!